113th FA Bn moves along the Hannover-Berliner Ring Autobahn NE of Beckum, Germany, April 2 1945
Windmill along the autobahn, April 2, 1945.
Underpass on the Hannover-Berlin autobahn. April 2, 45.
6-barrelled nebelwefers (150mm) near G. Berkle, Germany, April 6th, 1945.
Bearak and Nencioni play cards while Sgt. Glover looks on. Bisperode, Germany Apr. 9, 45.
Strassburg, Pawlikowski try out German rifles. Rosetta, Potete and Dahl look on. Bisperode, Germany, April 9, 45.
Capt. Van K. Heely, Bisperode, Germany April 9, 45.
Capt. Howard l. Krall, Bisperode, Germany April 9, 45.
Fishing in the moat at Bisperode, Germany, April, 45.
Billiard table at Bisperode, Germany April 9, 45.
Maj. Samuel A. McCall updating the situation map at Bisperode, April 9, 45.
Lt. Russell writing a letter at Bisperode, April 45.
T/Sgt. Creech and Pfc. Hense fishing in the moat at Bisperode, April, 45.
Bisperode, Germany, April 9th, 1945.
Bisperode, Germany, April 9th, 1945.
Windmill along the road. April 10th, 1945.
Small town W. of Brunswick, Germany. Note white flags. April 10th, 1945.
German 150mm rocket projectors mounted on a halftrack near Etzs, Germany. Apr. 10th, 45.
113th FA Bn CP in school on west edge of Brunswick, Germany. April 12th, 1945.
113th FA Bn rolling through Brunswick, Germany. April 12th, 1945.
House of Hannover Castle 15 miles SW of Hannover, Germany. April 1945.
Zelich, Germany. Forced laborers were kept in the building with barred windows. Apr. 45.
________________________________________________________________________________________________________________________________________
Refugee train at Zelich, ( ZIELITZ ) Germany. April, 1945.
Hallo Warren
There is a photo on your homepage: Refugee train at Zelich, ( ZIELITZ ) Germany. April, 1945.
Here some informations about the train:
The train, which should bring about 2,000 prisoners from the Bergen-Belsen death camp to extermination, stranded in April 1945 in Farsleben. Many people died of the hardships suffered. 138 of them are buried in Hillersleben.
Here all people can see the true meaning of the struggle of US soldiers: the struggle against fascism and thuggery. How much gratitude produced this human act?!
I sent the photo to a historian in Farsleben / Zielitz. He sent the photo to his friends in Israel. They were very thankful.



This photograph shows the dedication of the memorial in the cemetery in Hillersleben settlement on 9 November 1964.

With pride I saw that my correspondence is to be read on your homepage. Thank you.

Many greetings from Germany
Juergen Duerrmann
Here some more Informations about the train of Farsleben/Zielitz:
In the last days before the arrival of the Americans, the Nazis had a large transport of about 2,400 former prisoners from the concentration camp - leave Bergen-Belsen camp in a railway transport to Farsleben. These prisoners had to walk on 7 April 1945 from the concentration camp Bergen-Belsen to the station Celle, where they were loaded into cattle cars. There were Poles, Slovaks, Argentina, Greece and Hungary. The Hungarian Jews were the largest group. The next day, the train started with nearly 2,400 people on the move. The goal was the Theresienstadt concentration camp. In Farsleben came the trip after 5 days to an end. The guards of the SS fled, appeared the first tanks of the United States. At first, the prisoners were housed in Farsleben and the surrounding towns. In Farsleben itself in a few days died 32 former prisoners. Then the former prisoners were now brought by the Americans to Hillersleben. The accommodation for the former detainees took place in the southern residential area to the former business district. The Germans had to left the housings on very short notice, and the furnishings in the apartments had to be left behind.
Almost all of the population accommodation found in the upper village. Few went to neighboring communities. Thus almost in every apartment 2 to 3 families were pressed together.
The half-starved former prisoners had now got their accommodation and meals from the canteen kitchen. Despite medical care - there are two hospitals were set up - more people died in the general debility and typhoid. On the cemetery the Red Army set up a sports field. Now it is prepared again. Inscription of the plaque:
in eternal memory
In this place, rest 136 including known and 5 unknown. Former Jewish prisoners of the concentration camp Bergen-Belsen, Which is the door to freedom opened here in Hillersleben, but only to go as free people through the door of death." The burials took place in April, May, June, July 1945 . Soon after the cemetery was destroyed and only produced from 1996 to 1997 again. They find comfort in God and in the garden in peace. May they rest in peace until they resurrection on the last day. Amen.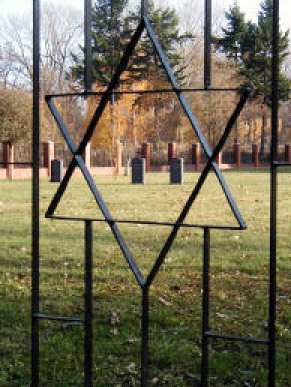 _______________________________________________________________________________________________________________________________________
Dear Warren
I had downloaded

4 photos

with

the emergency landing of

German

energy

transport machine

on

04/18/1945

from your webside.
Now I have

the report from the

crew

of the machine

.

I have translated

it

.

Sorry,

my English is not

perfect.

Please

correct

the text

.

I think it

is

interesting

to

combine

it

with the photos.





Many greetings

and

a happy new

year 2013
If there is someone, who is interested in mail contact to Germany, please pass my adress on - thank you
German JU-52 shot down at night, crash-landed in cemetery near C Battery position. Dahlenwarsleben, Germany. April, 1945.
German JU-52 shot down at night, crash-landed in cemetery near C Battery position. Dahlenwarsleben, Germany. April, 1945.
Cpl. Marshall Morris and Sgt. Sam Martin at crash site of German JU-52. April, 45.
German JU-52 at Dahlenwarsleben. I wonder if the dead in this cemetery turned over in their graves? April, 45.
Our last flight written by Gerhard Schleßiger 01.07.1991
The war came to an end. On 18th April was our group, which was transferred the day before to Aerodrome Ludwigslust, use the command in the northern Harz trapped troops to be supplied with ammunition, and to fly to the aerodrome to land in Quedlinburg. Starting order at intervals of 3 minutes, our crew should start as the last aircraft. It was our first use of the Western Front.
Recently we had flown to the Eastern Front for the withdrawal army units. The night of 4/18/45 was clear and moonlit, so very good visibility for us but also for the opponent. Because of possible American night fighter was only an altitude of up to 100m, almost flying low are elected.
The devil takes the hindmost, this was true especially in such operations, because in the past machines that fly at the same rate and at a short distance from the enemy territory, the probability of falling into the targeted defensive fire, is very high. The first 2 than 3 aircraft have since more chances to get away with it. They are like the alarm clock by the service. Before antiaircraft (german: Flak) - gunners have wiped the sleep from his eyes and have their guns ready to fire, the first aircraft are already out of the fire area. But then the Flak awake and responds immediately to any engine noise. In our experience of the Eastern Front remained Flak - gunners then ready to fire about 30 minutes after the last aircraft. Then the alarm was canceled and everything twisted back into the bunker. We therefore reported a fault on our radio and thus start delay. This was accepted without further scrutiny, with instructions to start immediately after the repair of the damage. In this way, we wanted to gain time, and the defense missed. After about 45 minutes delay we finally started. To avoid the enemy territory for now, the first course was east of the Elbe and close to Magdeburg, then he moved directly to Quedlinburg. Magdeburg, which was still being fought and severely burned, we were left in front of us. After the change of course and we were flying over the same now over enemy territory. Despite the night we flew as low as possible, hoping to get to the finish without bombardment. This hope was soon made ​​to naught. Targeted anti-aircraft fire from quadruplet – Flak hit us. We were headed straight for the anti-aircraft and the operation was contrary to our assumption still remained at their guns. A volley of tracer bullets smashed through our plane. A shot went out directly in our pulpit and met Wally, our pilot, full head. ,, My head, my head "- those were his last words, he was silent. After a brief look at his condition, I jumped at the 2nd Control in my place and told the rest of the crew, that the pilot has failed and I want to start an emergency landing. Willi, our flight engineer, who was sitting in the rear firing, called me to voice:,, Jonny (as I was called in our crew), I'll help! ". But it never came. About rushed now. I myself had to concentrate fully on my first self-landing. But at 800 landings I had sat next to the pilot and trust me a wheellanding. Compared with a He111, with which I had previously flown as a fighter pilot, can be at a Ju52 the chassis does not move. A belly landing was not possible. The Flak we had left behind. Our altitude was low and despite a reduction in engine speed, the speed was still very high. In a frantic flight we approached after a left turn in an area, which seemed somewhat suitable for an emergency landing. On the extension of the flaps was not even thinking. Nevertheless, I sat on the plane quite well and tried by braking to bring the machine to a halt - but without success. Obviously, the braking system had been damaged by a hit. Then everything happened very quickly: a gray wall came up to us, our plane broke through wall, shrubs and low trees, encountered obstacles and then all was silent. I myself was strapped as usual, so I had survived this crash landing without major injury. Now I could look over our situation: The aircraft was delivered resting in a cemetery, broke through the low wall, shaved off a few small trees and ranged from grave stones. The right engine was broken, demolished the cabin greatly. Luckily our Ju52 was not caught fire - it would have been the end for us all. Beside me sat silent and slumped to the pilots and from the hold I heard moaning sounds and pain. As a precaution I had opened the sunroof already located above my seat during landing so I could climb out and try to get help. Except for the moans of my wounded comrades, I heard only the drop of the leaking gasoline. I walked toward the exit of the cemetery and came to a road leading to Dahlenwarsleben. Through the moonlit night I could see from afar American vehicles that were parked on the roadside. To avoid being shot without warning, I was standing with his hands and shouted in English for help. After a short time came two American guards approached me and groped me for weapons. My Mauser pistol, which was in a cargo pocket, they did not notice. This I then gave them to her dismay into their own hands. My English skills were sufficient to explain the situation. Quickly a medical squad was alerted and with appropriate guards went to the cemetery. My comrades were recovered, placed on stretchers and connected. I could change only with Willi, our flight engineer, a few words. Walli, our pilot had died, and Ferdinand, our radio operator was without fully conscious . I had a profusely bleeding cut on his hand, which was joined by the American medic. My two wounded comrades had been jammed by the lopsided ammunition boxes and so had suffered their injuries.
The war was over for me. I personally had good luck with him survived despite many perilous situations with 3 relatively minor injuries without permanent physical injury.
Later I learned of the fate of my comrades:
Walli, our young pilot, had died of his wounds
Ferdinando, our radio operator and Willi, our flight engineer both had serious head injuries and partial fractures. But they have survived the war.

Date of shooting: 19/04/1945
Location of the emergency landing: Cemetery Dahlenwarsleben
Our aircraft: Ju 52 transport aircraft
Pilot: Unteroffizier Thunig Walter (Wally) Flight Engineer: Oberfeldw. Ponzelar Wilhelm (Willi)
Navigator: Unteroffizier Gerhard Schleßiger (Jonny) slightly shortened by Juergen Duerrmann 30.12.2012
TODAY PHOTOS AND MAPS FROM THE CEMETERY SITE:
Cemetery Entrance
Wall never rebuilt
Grave along wall
Hallo Warren
Here are some more informations about the shut down of the plane. I have attached 2 maps. There you can see, that the US- gunners saved the frontline at night good. In Barleben were the germans, also with flak - but with the terrible ''8.8''. They shot into our village to fight against the Us troops. The last deaths of the war from our village was a boy of 12 years. He was visiting. At night, the Germans shot at the place and the boy was killed by shrapnel in bed. But I don`t know if there were death US- soldiers. Can you find out whether there were losses?
The wall, which was destroyed by the aircraft, was never repaired. Each stone is still the way it fell on 18.014.45.

Many greetings from Germany

Juergen Duerrmann

_________________________________________________________________________________________________________________________________________
Eastern displaced persons on their way home. Olvenstedt, Germany. April, 45.
Cpl. Clyde Long, Sgt. Sam Martin, Sgt. Frank Speedy. Olvenstedt, Germany. April, 45.
Capt. Heely with USO Show Girl. Olvenstedt, Germany. April, 45.
German autobahn near Magdeburg, Germany. April, 45.
Magdeburg, April, 45.
German 380mm SP near Calbe. April, 45.
German 380mm SP by overpass on autobahn near Ebendorf, Germany. April, 45.
Heldersheim, Germany. April 45.
Magdeburg, Germany. April 45.
Magdeburg, Germany. April 45.
Magdeburg, Germany. April 45.